Home Page
Little Rock Trolley and the River Rail Streetcar Project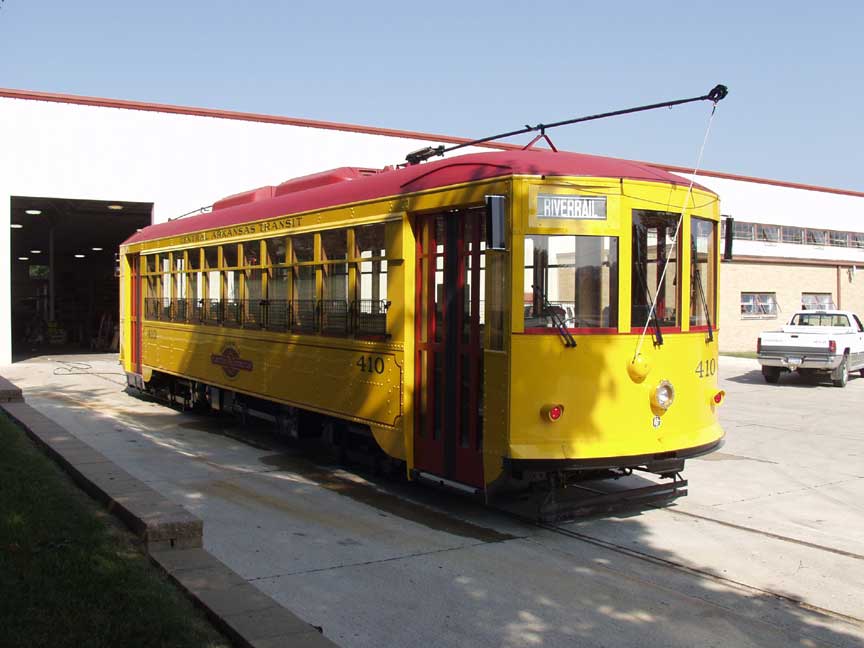 Replica Birney Trolley Specifications - HARTline Edition

CAR BUILDER: Gomaco Trolley Company, Ida Grove, Iowa 51445

FUNDING AGENCY: HARTline (Hillsborough Area Regional Transit Line).

SOURCE OF RUNNING EQUIPMENT: Peter Witt-style trucks from ATM Milan, Italy.

RUNNING EQUIPMENT: 30 HP GE traction motors, 650 volts, air/friction brakes, K-35 air compressor, TransTechnik inverter.

HEIGHT: 12.51 feet.

LENGTH: 49.75 feet.

WIDTH: 8 feet 6 inches.

WEIGHT: 46,000 pounds.

SPEED: 0-30 mph.

SEATING: 44 sitting, 44 standing.

UNDERFRAME & BAY: New steel construction developed by Gomaco Trolley Company.

FITTINGS: New brass castings by Gomaco Trolley Company.

WOODS:
Interior panels - oak.
Seats - oak and cherry.

WHISTLES: Manufactured by Gomaco Trolley Company.

AIR CONDITIONERS: Dual tag & trans air with dual controls.

COMMUNICATION SYSTEMS: Talking bus announcement system, conductor PA system and charging capabilities for radios.


The River Rail Streetcar Project is underway! In mid 2004, streetcars will once again glide over tracks in the downtowns of Little Rock and North Little Rock. Phase One will open with three replica or vintage trolleys operating on 2.1 miles of new track.

An overhead catenary wire will power the cars linking vibrant destinations in the River Cities. These include the 18,000 seat Alltel Arena, the 220,000 square foot Statehouse Convention Center, the River Market, numerous loft apartments, hotels, two city halls, the Argenta neighborhood, restaurants, Historic Arkansas Museum, Discovery Museum, the main Library, two Chambers of Commerce, courthouses, the Robinson Auditorium Concert Hall, Riverfront Amphitheater, and dozens of office buildings.

The route will use Markham and Second Streets between Spring and Commerce in Little Rock, and will use Main Street, Seventh Street, and Maple Street in North Little Rock. Eight stops are planned.